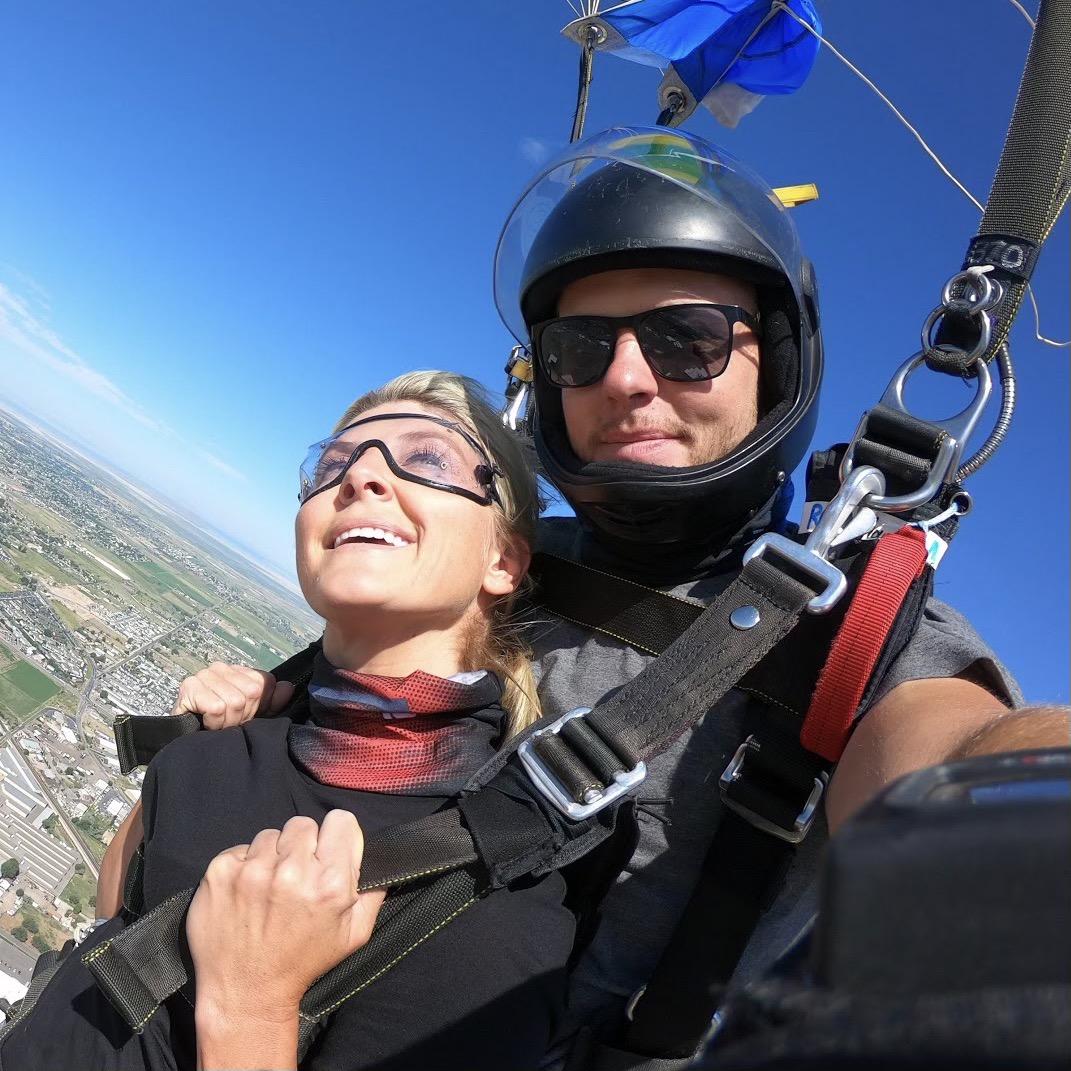 Tandem skydiving is the best way to make your first jump. It allows a student to make a skydive with an experienced Tandem instructor, jumping from an altitude of 10,000-12,000 feet above the ground. It is an excellent introduction to the sport, yet requires a minimal amount of preparation time.
Utilizing a dual harness and an over-sized parachute built to carry two people, the Tandem system is designed for a instructor/student combination. The student wears a custom-fit harness and is securely attached to the instructor at four points. The instructor wears the Tandem harness/container system that contains the specially built main and reserve Tandem parachutes.
15 to 30 minutes is all that is required prior to the Tandem jump. Since the Tandem instructor controls all aspects of the skydive, the student is free to enjoy the exhilaration of near a one minute freefall and the peaceful decent under canopy. Utilizing a dual ripcord and steering system, the student can take an active part in deploying the parachute as well as steering it once the canopy has opened. After landing, you'll receive a first jump certificate.
Basic Tandem Level I
Instruction Briefing
Equipment Rental
20 Minute Scenic Plane Ride
60 Second Tandem Freefall
7 Minute Parachute Ride
First Jump Certificate
ADD: Original VIDEO & Digital Photo Package
YOUR OWN PROFESSIONAL VIDEOGRAPHER
High Quality Freefall Video
High Quality Freefall Photographs
Pre-Jump & Plane Interviews
30+ Amazing Photos
Professionally Edited Video
ADD: ULTIMATE VIDEO & Digital Photo Package
YOUR OWN PROFESSIONAL VIDEOGRAPHER
High Quality Freefall Video
High Quality Freefall Photographs
Pre-Jump & Plane Interviews
30+ Amazing Photos
Tandem Instructor Hand-Cam Video
Professionally Edited Video
Limited Edition T-Shirt
ADD: GoPro Hand-Cam Photos
Tandem Instructor Hand-Cam
Close Up Photos
Selfie Style
GoPro Wrist Mounted
– OUR TICKET PRICES REFLECT A CASH DISCOUNT –
(Pay with cash and get the above advertised prices)
– OTHERWISE add +4% to the above prices –